Graduate Certificates in Technical Support
Career summary: Computer Support Specialists
Average Salary

$54,760

National Average, Source: Bureau of Labor Statistics

Career Outlook

Very Good

10% job growth by 2028, which is faster than average
Earn a degree in technical support from an accredited college
One of the best ways to prepare for a career in technical support is through a college education. A Graduate Certificate will help you develop entry level skills, general technical support know how and the basic technical support experience you need to start your career off right. You may also consider a Master's in Technical Support to help you take your education and career to the next level. Please select technical support school below.
Overview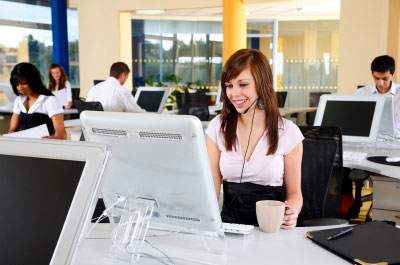 H3. Why would I want a computer support technician degree?
With the advancements in technology over the past 10-20 years, people with computer support technician degrees are becoming more and more valuable. After earning this degree you would enter a growing field that would provide you with plenty of job opportunities. If you enjoy working with computers and have a knack for technology, then a computer support technician degree just might be right up your alley.
Job Description
H3. What do people with computer support technician degrees do?
There are a number of career options for people who earn their computer support technician degrees. Most graduates get involved in providing technical assistance, support, and consultation to individuals, companies, and other organizations. Their work may include working within a company providing computer system support, or they may provide services on a contract basis. The computer support technician field can be broken up into two main areas, technical support specialists and help-desk technicians.
Technical support specialists are classified as individuals who provide computer and technical support to a company and organization. They answer questions and inquiries from employees and executives within the company. Their duties also involve keeping their companies' computer systems up-to-date and running diagnostic tests to resolve any issues that might occur with the systems. They are often times also involved it writing technical manuals and providing training to employees on new technologies that are being implemented into the company. Other daily tasks include overseeing performance of their company's computer systems, resolving technical problems with Local Area Networks (LAN), Wide Area Networks (WAN), and other systems.
While technical support technicians deal with companies' internal technical support, help-desk technicians, on the other hand, primarily deal with technical support for companies' customers. They may do this through telephone calls, e-mail messages, or posts on websites. Since their work isn't done face to face, help-desk technicians must be very good listeners, pay attention to detail, and they must also be patient. Sometimes they have to walk customers through even the most basic steps, telling them what to look for and where to click. Some of their duties include installing, modifying, cleaning, and repairing computer hardware and software.
The industries that employ the highest amount of computer support technicians are listed below.
Computer Systems Design and Related Services
Elementary and Secondary Schools
Management of Companies and Enterprises
Colleges, Universities, and Professional Schools
Professional and Commercial Equipment and Supplies Merchant Wholesalers
Salary
H3. How much do computer support technicians make?
According to the Bureau of Labor Statistics, the median annual salary for computer user support technicians in May 2018 was $50,980. The middle 50 percent earned between $39,310 and $65,640. The lowest 10 percent earned less than $31,220, and the highest 10 percent earned more than $84,510. The median hourly wage for computer support technicians in 2019 was $26.33.
The states with the highest average annual salaries for computer support technicians were Massachusetts, District of Columbia, New Jersey, Washington, and California. They paid out a combined average annual salary of $65,734.
Career Outlook
H3. How popular are computer support technician jobs?
Computer support technician jobs are quite popular, and they will continue to be popular into the foreseeable future. According to the Bureau of Labor Statistics, jobs in this industry will increase by 10 percent through the year 2028, which is faster than the average growth rate among all jobs. The expected growth rate is due to technology continuing to expand and becoming more complex, which will increase the demand for technical support.
Career Path
H3. How do I become a computer support technician?
Requirements for entry level positions in this industry vary greatly from company to company and organization to organization. A lot of it has to do with how complex the systems are that they are running and if they need technology support outside of their computer systems. Some positions require at least a bachelor's degree in computer science, computer engineering, or information systems. Many positions only require a computer support technician associate's degree or certificate.
Technical Support Schools (0)
...Please wait... more schools are loading...