Home »
Environment / Natural Resources
Master's Degrees in Environment / Natural Resources
Career summary: Environmental Scientists and Specialists
Average Salary

$71,360

National Average, Source: Bureau of Labor Statistics

Career Outlook

Good

8% job growth by 2028, which is faster than average
Earn a degree in environment / natural resources from an accredited college
One of the best ways to prepare for a career in environment / natural resources is through a college education. A Master's Degree will help you develop entry level skills, general environment / natural resources know how and the basic environment / natural resources experience you need to start your career off right. You may also consider a Doctoral in Environment / Natural Resources to help you take your education and career to the next level. Please select environment / natural resources school below.
Overview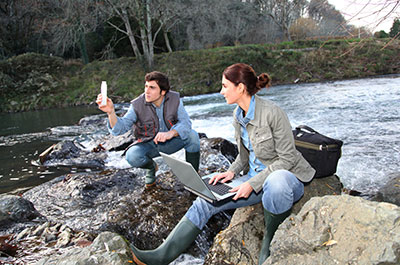 Why would I want a degree in environmental science?
A degree in environmental science will help you develop the knowledge and skills you need to have an exciting career in a field with growing importance and good job opportunities. If you are environmentally conscious, if you have a knack for biology and chemistry, and if you like working outdoors, then a degree in environmental science may be just the degree you are looking for.
Job Description
What do environmental scientists do?
Environmental scientists use their knowledge of biology, chemistry, and other natural sciences to protect the environment. They identify environmental problems and find solutions that minimize hazards to the health of the environment and the population. They do this, in part, by observing or taking samples of air, food, water, and soil, and analyzing them to see if there are any issues. There goals to remedy any issues that may appear usually include degradation, conservation, recycling, and replenishment.
The Federal Government and State governments create and enforce laws and regulations that help to ensure that the general public has clean air to breathe, safe water to drink, and no hazardous materials in the soil. These laws and regulations impact things such as zoning laws and certain developments, especially in places like wetlands. These government activities provide employment opportunities for environmental scientists in the public and private sectors. In the public sector, they help government officials understand environmental risks of certain projects and/or how to minimize the effects of certain projects on the environment and public health. In the private sector, they consult companies on environmental policies and help them comply with government regulations.
Some environmental scientists specialize in certain areas of environmental science. The most common ones are listed below.
Atmospheric Science: Focuses on the study of the Earth's atmosphere, especially to its relation with the other Earth systems.
Ecology: Is the study of organisms and their interactions with the environment.
Environmental Chemistry: Deals with the study of chemical alterations in the environment, particularly to soil and water.
Geosciences: Deals with the evolution and change in the Earth's crust, which includes environmental geology, environmental soil science, and volcanic phenomena.
The industries that employ the highest amount of environmental engineers are listed below.
State and Local Government
Management, Scientific, and Technical Consulting Services
Architectural, Engineering, and Related Services
Environmental Protection Agency (

EPA

), Federal Government
Department of Defense, Federal Government
Salary
How much do environmental scientists make?
According to the Bureau of Labor Statistics, the median annual salary for environmental scientists in May, 2019 was $71,130. The middle 50 percent earned between $53,580 and $94,590. The lowest 10 percent earned less than $42,520, and the highest 10 percent earned more than $124,620. The median hourly wage for environmental scientists in 2019 was $34.31.
The states with the highest average annual salaries for environmental scientists were District of Columbia, Colorado, California, New Mexico, and Virginia. They paid out a combined average annual salary of $94,568.
Source: https://www.bls.gov/ooh/life-physical-and-social-science/environmental-scientists-and-specialists.htm.
Career Outlook
How popular are environmental scientist jobs?
Jobs in environmental science are quite popular, and they will continue to be popular into the foreseeable future. According to the Labor of Bureau Statistics, jobs in this industry will grow by 8 percent through the year 2028, which is much faster than the average growth rate among all jobs.
The largest growth is expected to be in the private sector, and the spur in growth will be due to increased demands on the environment from a growing population and increased awareness to protect the environment.
Career Path
How do I become an environmental scientist?
In order to qualify for entry-level positions, you must have at least a bachelor's degree in environmental science or a bachelor's degree in a related field. Most employers prefer candidates who have a master's degree in environmental science with a bachelor's degree in a related field. A doctorate degree is generally needed for teaching at colleges and universities.
Environment / Natural Resources Schools (0)
...Please wait... more schools are loading...