Home »
English as a Second Language
Post-doctoral Certificates in English as a Second Language
Career summary: Adult Literacy and High School Equivalency Diploma Teachers
Average Salary

$48,590

National Average, Source: Bureau of Labor Statistics

Career Outlook

Good

9% job growth by 2022, which is below average
Earn a degree in english as a second language from an accredited college
One of the best ways to prepare for a career in english as a second language is through a college education. A Post-doctoral Certificate will help you develop entry level skills, general english as a second language know how and the basic english as a second language experience you need to start your career off right. Please select english as a second language school below.
Overview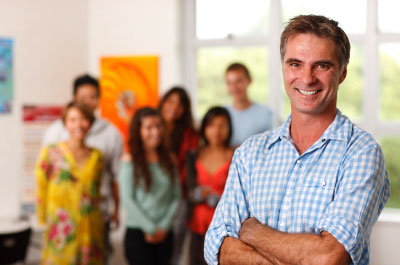 Why would I want a teaching English as a second language degree?
A degree in teaching English as a second language will lend to a career with plenty of teaching opportunities, not only all over the country, but all over the world. It will help you learn the skills needed to help others learn English as a second language, which can impact students' lives in a way that could be life changing. If you are patient, culturally sensitive, like learning about other cultures, and have a love of teaching, then a degree in teaching English as a second language may be a very good fit for you.
Job Description
What do people with degrees in teaching English as a second language do?
People with degrees in teaching English as a second language usually become ESL (English Second Language) teachers. There are a number of different alternative titles to ESL teacher, but ESL is the most common acronym used for teachers who teach English as a second language. Some of the other more common acronyms for their titles include ESOL, EFL, and TESOL.
In short, ESL teachers help students from foreign countries learn to speak, listen, read, and write in English. There are some cases in which teachers work with children who are from the United States, but their native language is something other than English, so they must learn English as a second language. These kinds of cases usually occur when the students' parents are immigrants and can't speak English, so only their native language is spoken at home.
Specific duties of ESL teachers vary greatly depending on the type of positions they hold. Brief descriptions of the most common positions for ESL teachers are listed below.
K-12

ESL

Teachers: Their responsibilities are to help students learn English as efficiently as possible, so the students can be integrated into the classroom and not fall behind. It's a job that's easier said than done. Many schools don't have enough

ESL

teachers to cover the demand, especially in cities with large immigrant communities.
Adult Literacy and Remedial Education: They teach adults (most often immigrant adults) to speak, listen, read, and write in English. Often times they will focus on work related skills in order to improve the students' chances of getting a good job.
Public Schools (Overseas): They may be employed by K-12 schools or colleges and universities. Their jobs are different than most other

ESL

positions, because they usually don't get much one on one interaction with their students, as their classroom sizes are quite large ( anywhere from 20-50 students).
Private Language Schools (Overseas): In some countries, these schools are also known as "cram schools." They are schools that students go to in the evening and/or on the weekend, when they are not at their regular schools, to further their education. It is also common for adults to attend these schools to study English. Classroom sizes are usually small (5-10 students), and they focus on oral English skills.
Online Teaching: Teaching

ESL

over the internet using web cams is becoming more and more popular. The demand for

ESL

teachers overseas is always high. In fact, many schools have a difficult time attracting enough teachers to meet their demands. To meet these demands, as well as cut costs, there are more and more companies using the internet to serve their students. Usually

ESL

teachers only have 1-5 students per online class, and their students are usually overseas. Their focus of study is oral English.
Salary
How much do
ESL

teachers make?

Due to the wide variety of teaching positions, the salary range for ESL teachers is quite large. Regular K-12 teachers who have an ESL degree or certificate tend to earn the most, with a median annual salary of $55,000. Those who teach adult literacy and those who teach overseas are usually paid by the hour, and their wages can range from $8 – $30 an hour. Those who teach overseas are at the lower end of the pay scale, but pay largely depends on the country and city you teach in. Some places may only pay $8/hour USD, but the cost of living is so low that you can live very well off that wage. Plus, many overseas jobs include housing and other benefits.
Career Outlook
How popular are
ESL

teaching jobs?

ESL jobs are quite popular, and they will continue to be popular into the foreseeable future. With a greater emphasis in recent years on educating the immigrant population in the United States, along with a greater interest worldwide to learn English due to globalization, the job outlook for ESL teachers is very good. Jobs in ESL teaching are expected to increase by about 15% over the next decade, which is a faster increase than the average growth rate among all jobs.
Career Path
How do I become an
ESL

teacher?

If you want an ESL position in the United States, then the minimum requirement is usually a bachelor's degree (preferably in education) along with an ESL certificate. Depending upon the position, you may need an associate's, bachelor's, or even a master's degree in teaching English as a second language to qualify for a particular position.

The qualifications to work as an ESL teacher overseas vary from country to country. In most countries, though, the minimum requirements include holding a bachelor's degree (in any discipline) and being a native English speaker. Some places may require that you hold an ESL certificate, or have some kind of specialized training in ESL, or have years of experience teaching ESL.
English as a Second Language Schools (0)
...Please wait... more schools are loading...