Home »
Veterinary Studies
Post-doctoral Certificates in Veterinary Studies
Career summary: Veterinary Technologists and Technicians
Average Salary

$35,320

National Average, Source: Bureau of Labor Statistics

Career Outlook

Excellent

19% job growth by 2028, which is much faster than average
Earn a degree in veterinary studies from an accredited college
One of the best ways to prepare for a career in veterinary studies is through a college education. A Post-doctoral Certificate will help you develop entry level skills, general veterinary studies know how and the basic veterinary studies experience you need to start your career off right. Please select veterinary studies school below.
Overview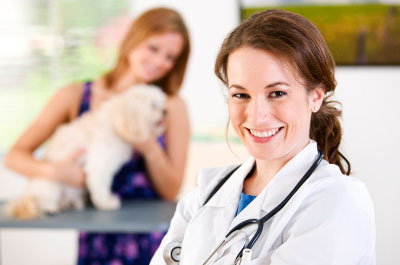 Why would I want a veterinary studies degree?
A degree in veterinary studies (veterinary/animal health technology/technician and veterinary assistant) will provide you with the skills to become a veterinary technician or a veterinary technologist, which is a field in which there will be more new jobs than there will be graduates to fill them. If you have a love for animals and an interest in helping them stay healthy, then this is a degree that you should strongly consider.
Job Description
What do people with veterinary studies degrees do?
People who have a degree in veterinary studies usually become veterinary technicians or veterinary technologists. Although the education requirements for the two are different, the duties they perform in a veterinarian office are almost identical. They assist veterinarians by conducting clinical and laboratory procedures in private clinics and animal hospitals. Some of these duties may include performing laboratory tests such as urinalysis and blood counts; assisting with dental care; preparing tissue samples; taking blood samples; assisting veterinarians in a variety of other diagnostic tests; recording patients' case histories; exposing and developing x rays and radiographs; providing specialized nursing care; administering medications; preparing samples for laboratory examinations; recording information on an animal's genealogy, diet, weight, medications, food intake; recording clinical signs of pain and distress; sterilizing laboratory and surgical equipment; assisting veterinarians in surgery; and providing routine postoperative care.
There are various types of specialties in the veterinarian field. The most common specialties include small animals, large animals, mixed animals, and equine (horses). The majority of vet offices specialize in small animals, which include dogs, cats, mice, rats, sheep, pigs, cattle, monkeys, birds, fish, frogs, etc.
Aside from working in veterinarian offices, technologists also have the opportunity to work in more advanced research-related jobs. Some technicians also might have similar opportunities; although, usually research jobs are reserved for technologists since they have more formal training.
The most common places of employment for veterinary technicians and technologists are:
Private Veterinary Offices
Animal Hospitals
Animal Shelters
Research Facilities
Race Tracks
Salary
How much do veterinary technicians and technologists make?
According to the Bureau of Labor Statistics, the median annual salary for veterinary technicians and technologists in 2018 was $34420. The middle 50 percent earned between $28,210 and $40,710. The bottom 10 percent earned less than $23,490, and the top 10 percent earned more than $50,010. They are usually paid by the hour, and the median hourly wage for technicians and technologists in 2019 was $16.98.
Career Outlook
How popular are veterinary technician and technologist jobs?
Veterinary technician and technologist jobs are quite popular, and they will continue to be popular into the foreseeable future. Jobs in this field are expected to grow by 19% through 2028, which is much faster than the average growth rate among all jobs. In fact, it is expected that there will not be enough qualified personnel to satisfy the expected job demand.
The factors spurring the strong job growth are a growing population; growing affluence in the general population, which leads to the ability to afford pets and their care; and limited output of qualified technicians and technologists.
Career Path
How do I become a veterinary technician or technologist?
In order to become a veterinary technician, you must obtain an associate's degree in veterinary studies (veterinary/animal health technology/technician and veterinary assistant). In order to become a veterinary technologist, you must obtain a bachelor's degree in the same area of study.
In most states you must also pass a credentialing exam following your coursework. To find out more information about certification, talk to the veterinary studies school of your choice.
Veterinary Studies Schools (0)
...Please wait... more schools are loading...