Tutoring/Supplemental Education in Dental
Career summary: Dental Hygienists
Average Salary

$76,220

National Average, Source: Bureau of Labor Statistics

Career Outlook

Very Good

11% job growth by 2028, which is much faster than average
Earn a degree in dental from an accredited college
One of the best ways to prepare for a career in dental is through a college education. A Tutoring/Supplemental Education will help you develop entry level skills, general dental know how and the basic dental experience you need to start your career off right. You may also consider a Diploma in Dental to help you take your education and career to the next level. Please select dental school below.
Overview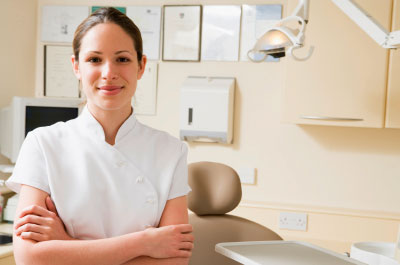 Why would I want a dental hygienist degree?
There are many appealing aspects to getting a dental hygienist degree. First and foremost the jobs are plentiful. Due to the nature of the industry, dental hygienists will be in high demand for the foreseeable future. Another thing that is very appealing is that you can work part-time and still earn a good wage. If you like helping and caring for people, have an interest in dental hygiene, and would like a stable working environment, then getting a dental hygienist degree would be a great fit for you.
Job Description
What do dental hygienists do?
Simply stated, dental hygienists work hand-in-hand with dentists to provide dental care for their patients. Hygienists are typically responsible for routine cleanings; taking X-rays and developing the X-rays; routine check-ups to detect gum disease, tooth decay, and other abnormalities; applying cavity-preventative agents such as different types of fluoride and anti-cavity sealants; teaching proper brushing and flossing techniques; assist in filling cavities and other minor oral surgeries; and giving general dental hygiene advice to their patients. Basically, dental hygienists are to dentists like nurses are to doctors. Hygienists actually to a majority of the work, and dentists do the final examination and surgeries.
The vast majority of dental hygienists work in dentist offices. There are other settings, though, in which a dental hygienist can find opportunities for work. Listed below are the different places that dental hygienists usually work, and they are listed from most common to least common.
Dentist Offices
Physician Offices
Employment Services
Outpatient Care Centers
General Medical and Surgical Offices
Salary
How much do dental hygienists make?
According to the Bureau of Labor Statistics, the median annual salary for dental hygienists in 2019 was $76,220. Fifty percent of hygienists earned between $64,260 and $91,560. The top ten percent earned more than $103,340 a year, and only ten percent earned less than $53,130 a year. Your wage would depend largely upon your level of training, the type of dentistry your office practices, and the city you live in.
It is common for dental hygienists to be paid by the hour. This is probably due to the fact that around half of dental hygienists only work part-time (most statistics say about 51% of hygienists work part-time). Anything less than 35 hours a week is considered part-time. The median hourly wage for hygienists is $30.90 to $44.02.
Career Outlook
How popular are dental hygienist jobs?
Dental hygienist jobs are actually very popular. This is due to a number of factors, which include the convenience of getting a hygienist degree, a great job outlook, and the option to work part-time.
The job outlook for dental hygienists is very good. It is projected that the job growth for hygienists will grow by about 11% through the year 2028, which is much higher than the average growth rate among all jobs. This high growth rate is being spurred on by increased population growth, the emphasis on preventative oral care, and older patients keeping more of their natural teeth due to improved dental care in recent years.
Career Path
How do I become a dental hygienist?
In order to become a dental hygienist you must get proper training through an accredited institution. Requirements sometimes differ from state to state, so you want to be sure that the program you choose fits your needs. Some dental hygienist programs require that you take prerequisite courses in college, so that is another area that you want to pay attention to when choosing a school.
The areas of study for hygienists include anatomy, microbiology, chemistry, pharmacology, nutrition, dental radiology, histology, and psychology, along with all areas of dental health and hygiene. In order to work in a dentist office you only need an associate's degree. Some hygienists go on to earn bachelors' or even masters' degrees. If you would like to teach or do clinical research, then a master's degree is required.
...Please wait... more schools are loading...