Home »
Networking / Security
Tutoring/Supplemental Education in Networking / Security
Career summary: Network Administrators
Average Salary

$83,510

National Average, Source: Bureau of Labor Statistics

Career Outlook

Good

5% job growth by 2028, which is average
Earn a degree in networking / security from an accredited college
One of the best ways to prepare for a career in networking / security is through a college education. A Tutoring/Supplemental Education will help you develop entry level skills, general networking / security know how and the basic networking / security experience you need to start your career off right. You may also consider a Diploma in Networking / Security to help you take your education and career to the next level. Please select networking / security school below.
Overview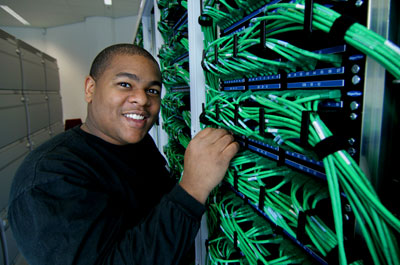 Why should I get a networking degree?
If you have an analytical approach to problem solving, and you have an interest in the science-math-engineering disciplines, networking may be a good career for you. You will get to manipulate current technologies to communicate. You may also be in charge of securing information from corruptive and intrusive external sources (like alien invaders!). Your future will be secure if you choose to major in a computer-science related area. It's the fastest growing sector of the economy, and networking is a significant part of information technology.
Job Description
What kinds of jobs could I get with my degree?
Some of the most common jobs you can expect are network administrator, network support specialist, security analyst, and telecommunications engineer. The top industries for this field include technical and professional services, information and media, and self-employment. If you change your mind, some related careers are those like computer programmer, radio operater, desktop publisher, electrician, database administrator, website designer, and many others.
5 Common Jobs
network administrator
network support specialist
information security analyst
telecommunications engineer
computer network architect
Salary
How much do network admininstrators make?
The median annual wage for computer and information technology occupations was $88,240 in May 2019. If you work as a network administrator, you can expect around $65,460 to $106,310 annually. Computer network support specialists received a median salary of $63,460.
Career Outlook
How is the job market?
The outlook is excellent. From 2018-2028 employment for most jobs in networking are expecting to grow about 5%.
Career Path
What skills do I need?
Math and logical thinking ability, organization, are important characteristics for success in this field. You should be persistent, pay attention to detail, and value investigation and enterprise. Some computer experience is strongly recommended. It will probably be reviewed for employment. An interest in blogging, website management, communication and visual or written media—tweets, e-mail, facebooking, and the like—may also be helpful.
Networking / Security Schools (0)
...Please wait... more schools are loading...