Request information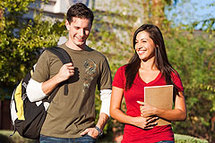 Location
3300 W Camelback Rd
Phoenix, AZ 85017
Grand Canyon University prepares learners to become global citizens, critical thinkers, effective communicators, and responsible leaders by providing an academically-challenging, values-based curriculum from the context of our Christian heritage.
Since 1949, Grand Canyon University has been helping students find their purpose and achieve their potential by preparing them to pursue their chosen career, advance in their current career or re-career into a different field. As a Christian university, GCU also encourages students to find their purpose in Christ, with an emphasis on applying Christian values and ethics to their studies and workplace. GCU offers online and campus-based degree programs within a dynamic learning environment for both traditional students and working professionals. Our classes involve engaging interaction with classmates and individual attention from faculty who care about student success. GCU is also experiencing an exciting time of campus expansion, including brand-new residence halls, a student recreation center, campus eateries, classroom buildings for STEM learning and more. The main attraction is the 7,000-seat GCU Arena—home to our men's and women's basketball teams and host for other events, such as concerts and world-renowned Christian speakers. For more information, visit www.gcu.edu.
Disclosure Link: http://www.gcu.edu/degree-programs/ppc
Grand Canyon University is accredited by the Higher Learning Commission (hlcommission.org), an institutional accreditation agency recognized by the U.S. Department of Education.
General Accreditation Link: http://www.gcu.edu/academics/academic-policies.php
Nursing Accreditation Link: http://degree.gcu.edu/nursing/international/lp-one.php
Twitter Stream
Grand Canyon University's YouTube Channel
Request information