Home »
Elementary Education
Elementary Education Degrees
Career summary: Kindergarten and Elementary School Teachers
Average Salary

$53,090

National Average, Source: Bureau of Labor Statistics

Career Outlook

Good

12% job growth by 2022, which isslightly faster than average
Earn a degree in elementary education from an accredited college
Elementary education normally involves the teaching of children in kindergarten through grade 5 or 6, depending on locality. Beyond the obvious task of providing students with instruction in the basic skills of reading, writing and arithmetic, a teacher performs many additional important functions. This includes developing and employing curriculums that will provide students with knowledge and information that will help build them mentally, physically and spiritually. It includes the ability to understand and interact with students in ways that will provide encouragement, draw out their talents, reward them for their work, motivate them to achieve and at times provide comfort, a feeling of being loved, or just a listening ear. At the same time, it can involve patience in dealing with unruly or uncooperative students. As with any occupation, it can entail considerable self-sacrifice and long hours.
Overview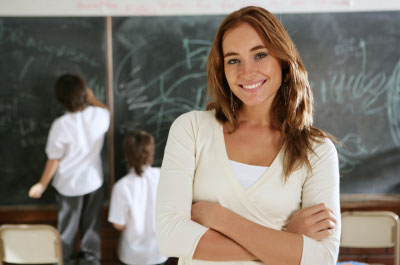 Why would I want an elementary education degree?
If you know you would like to become an elementary school teacher, then this is the best degree to accomplish that goal. There are several reasons why becoming an elementary school teacher is desirable. A position as an elementary school teacher provides a steady job, allows you to work with children and help to shape their lives, and you earn the respect of parents and piers. If you love children and have a passion for teaching, then a degree in elementary education would be a good path for you.
Job Description
What do people with elementary education degrees do?
The vast majority of people who get a degree in elementary education become elementary school teachers. They are in charge of educating students who are 6 – 12 years of age. Unlike middle school teachers, high school teachers, and college professors, elementary school teachers are usually in charge of teaching the same group of students throughout the day. This means that they are in charge of their students' full education from math to English to science etc. The students do have separate teachers for a select few subjects, though, like P.E., but the students generally only work with those teachers once or twice a week.
Elementary school teachers generally only work 10 months out of the year (the two months off are during the break in the summer). They often times, however, work more than 40 hours a week during the school year. This is due to that fact that there are many things that need to be accomplished which are required to successfully run a classroom that cannot be completed during the regular school day. Some of the typical daily tasks include:
Planning, preparing, and giving lessons
Preparing, giving, and grading tests
Assigning and grading homework
Communicating and working with parents to further their students' educations
Work with other teachers (especially at grade level) to collaborate on projects, discuss curriculum, and implement new ideas
While the majority of people with elementary education degrees become elementary school teachers, there are other places that employ elementary education graduates. The places that employ the highest concentration of elementary education graduates are listed below.
Elementary Schools
Religious Organizations
Other Schools and Instructional Institutions
Educational Support Services
Individual and Family Services
Salary
How much do elementary school teachers make?
According to the Bureau of Labor Statistics, the median annual salary for elementary school teachers in 2010 was $54,360. The top 10 percent earned close to $80,000, and the lowest 10 percent earned less than $30,000. The states that have the highest salaries for elementary school teachers are listed below.
Rhode Island
Alaska
Connecticut
New York
California
Career Outlook
Are elementary school teaching jobs popular?
Jobs for elementary school teachers are popular, and they will continue to be popular into the foreseeable future. According to the Bureau of Labor Statistics, from 2008 to 2018 jobs in this industry are expected to grow by 16%, which is faster than the average growth rate among all jobs. The high job growth rate, high turnover, and increased federal funding will create good job opportunities for elementary school teachers for years to come.
The states with the highest concentration of elementary school teachers are listed below.
Texas
North Dakota
Illinois
Hawaii
Vermont
Career Path
How do I become an elementary school teacher?
The best way to become an elementary school teacher is by earning a bachelor's degree in elementary education, which will fulfill your educational requirement and will prepare you to obtain a teaching license for early childhood grades. Some private schools don't require a teaching license for employment, but a bachelor's degree is still usually required.
Elementary Education Schools (6)
...Please wait... more schools are loading...