Home »
Automotive Technology / Mechanic
Bachelor's Degrees in Automotive Technology / Mechanic
Career summary: Mechanics
Average Salary

$36,610

National Average, Source: Bureau of Labor Statistics

Career Outlook

Good

9% job growth by 2022, which is below average
Earn a degree in automotive technology / mechanic from an accredited college
One of the best ways to prepare for a career in automotive technology / mechanic is through a college education. A Bachelor's Degree will help you develop entry level skills, general automotive technology / mechanic know how and the basic automotive technology / mechanic experience you need to start your career off right. You may also consider a Continuing Education in Automotive Technology / Mechanic to help you take your education and career to the next level. Please select automotive technology / mechanic school below.
Overview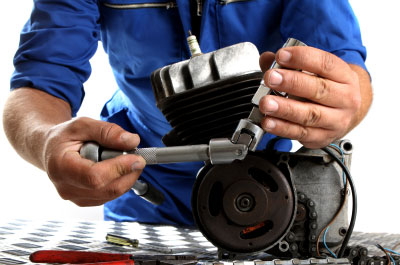 Why would I want an automotive technology degree?
An automotive technology degree can teach you how to diagnose engine and other automotive issues. If you love working with your hands a career in automotive technology might be for you.
Job Description
What does an automotive service technician do?
Automotive service technicians and mechanics typically do the following:
Identify mechanical problems, often by using computerized diagnostic equipment
Test parts and systems to ensure that they are working properly
Follow checklists to ensure that all critical parts are examined
Perform basic care and maintenance, including changing oil, giving tuneups, checking fluid levels, and rotating tires
Repair or replace worn parts, such as brake pads and wheel bearings
Disassemble and reassemble parts
Use testing equipment to ensure that repairs and maintenance are effective
Explain to clients their automotive problems and the repairs done on their vehicles
Salary
How much does an automotive service technician make?
The median annual wage for automotive service technicians and mechanics was $36,610 in May 2012. The median wage is the wage at which half the workers in an occupation earned more than that amount and half earned less. The lowest 10 percent earned less than $20,810, and the top 10 percent earned more than $60,070.
Career Outlook
How popular are automotive service technician jobs?
As the number of vehicles in use continues to rise, more entry-level service technicians will be needed to do basic maintenance and repair, such as replacing brake pads and changing oil. The increasing lifespan of late-model cars and light trucks will further increase demand for qualified workers.
Career Path
How do I become an automotive service technician?
A high school diploma or the equivalent is typically the minimum requirement for someone to work as an automotive service technician or mechanic. High school courses in automotive repair, electronics, computers, mathematics, and English provide a good background for prospective service technicians. However, high school graduates often need further training to become fully qualified.
Automotive Technology / Mechanic Schools (0)
...Please wait... more schools are loading...