Certificates in Cosmetology
Career summary: Barbers, Hairdressers, and Cosmetologists
Average Salary

$26,270

National Average, Source: Bureau of Labor Statistics

Career Outlook

Good

8% job growth by 2028, which is faster than average
Earn a degree in cosmetology from an accredited college
One of the best ways to prepare for a career in cosmetology is through a college education. A Certificate will help you develop entry level skills, general cosmetology know how and the basic cosmetology experience you need to start your career off right. You may also consider a Bachelor's in Cosmetology to help you take your education and career to the next level. Please select cosmetology school below.
Overview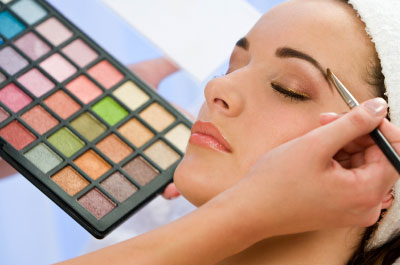 Why would I want a cosmetology degree?
A degree in cosmetology will give you the skills to work in one of the world's oldest and most popular industries. If you like helping people to look their best; if you like to create with your hands; if you like to see the results of your work take shape before your eyes; and if you like to please other people, then a degree in cosmetology may be right up your alley.
Job Description
What do people with cosmetology degrees do?
People who get their degrees in cosmetology go on to become certified, licensed cosmetologists. Cosmetologists help to improve the appearance of others through cutting and dressing hair, doing nails, doing makeup, and through skin care, or any combination of the above.
Usually when clients first walk in the door, cosmetologists will consult with them about the look they want to accomplish. During consultations, cosmetologists may give some recommendations or suggestions according to their clients' features (i.e. hair type, skin tone, shape of face, etc.). Once the consultations are complete, cosmetologists will analyze the condition of their hair, skin, and nails. Finally, cosmetologists proceed with the work and treatments needed in order to accomplish the look that their clients want to achieve.
Cosmetologists may also keep records of hair color or skin care regimens used by their regular clients; actively sell hair, skin, and nail care products; and manage salons (particularly those who own salons), which includes hiring, supervising, and firing workers, as well as keeping business and inventory records, ordering supplies, and arranging for advertising.
The most common places that cosmetologists find employment include salons, barber shops, beauty shops, department stores, and personal health stores. The most common positions for people with cosmetology degrees include:
Barbers
Hairdressers, Hairstylists, and Cosmetologists
Manicurists and Pedicurists
Makeup Artists
Skin Care Specialists
Salary
How much do cosmetologists make?
According to the Bureau of Labor Statistics, the median hourly wage for cosmetologists in 2019 was $12.54. The middle 50 percent earned between $10.05 and $17.66. The lowest 10 percent earned less than $8.86, and the highest 10 percent earned more than $24.94. These figures include tips and commissions.
Although wages for entry-level positions can be rather low, wages for those who have experience are considerably higher. Many cosmetologists who have years of experience and who have built up a large clientele open up their own shops and salons. Successful shops and salons bring in a lot of money to both owners and employees.
Career Outlook
How popular are cosmetology jobs?
Jobs in cosmetology have always been popular, and they will continue to be popular into the foreseeable future. According to one source, there are currently three job offers to every cosmetology graduate. Looking into the future, jobs in this industry are expected to grow by 8% through the year 2028, which is much faster than the average growth rate among all jobs.
Spurring job growth will be an increase in the population, which will increase demand for basic hair and beauty services. The number of people who want hair coloring and other advanced hair treatments is also on the rise, which will add to job growth.
Career Path
How do I become a cosmetologist?
All states require cosmetology professionals to be licensed; although, the requirements for licensing varies from state to state. A degree or a certificate in cosmetology will give you the skills and the hours you need in order to become a licensed cosmetologist. Usually programs take at least 9 months to complete, and some may take up to two years, depending on state requirements and whether or not students are part-time or full-time.
...Please wait... more schools are loading...