Certificates in Drafting
Career summary: Drafters
Average Salary

$56,830

National Average, Source: Bureau of Labor Statistics

Career Outlook

Poor

0% job growth by 2028, which is below average
Earn a degree in drafting from an accredited college
One of the best ways to prepare for a career in drafting is through a college education. A Certificate will help you develop entry level skills, general drafting know how and the basic drafting experience you need to start your career off right. You may also consider a Bachelor's in Drafting to help you take your education and career to the next level. Please select drafting school below.
Overview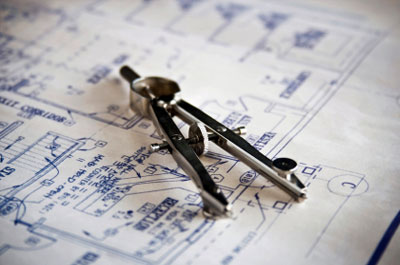 What skills do I need to become a drafter?
In many drafting jobs, you will have to use Computer Aided Design and Drafting (CADD) systems to prepare drawings, so training with these programs is a good place to start. You'll also need to know traditional drafting techniques (with a paper, pencil, ruler, and compass). Formal training can be received at a technical institute, community college or 4-year college or university and is usually the best route to take.
Job Description
What does a drafter do?
As a drafter you will have opportunities to work in a variety of fields and with a variety of professionals. You might work with an architect to do preliminary drawings for public and private homes and buildings. You could also work with an engineer to create site plans and maps or to draw out cross-sections and details of buildings in order to make structures safer. Drafters also draw out diagrams of products in order to explain them or give instruction. Or you could work more conceptually and come up with innovative designs for cars, buildings, and other products that others will create and finish.
5 Common Careers:
Architectural Drafter – used by an architect to do preliminary drawings
Civil Drafter – work with an engineer to make site plans, etc.
Conceptual Drafter – drawing others' ideas on a computer
Structural Drafter – draws all of the details that make up the structure of a building (for an engineer)
Mechanical Drafter – creates diagrams and makes them readable
Salary
How much would I make as a drafter?
No matter what kind of drafter you are, your salary's going to be pretty good. Most drafters in the architectural, civil, structural, or mechanical drafting fields will make approximately $52,000 – $61,000.
Career Outlook
How popular are jobs in drafting?
The nice thing about jobs in drafting is the variety of jobs that you can do. You're not pigeonholed into one option alone, but you can work in the fields of engineering, architecture, design, etc. While the employment rate is not improving as quickly as some careers, the more schooling you have the better your chances are. Also, the more specific technical skills you gain, the more varied your options are!
Career Path
How do I become a drafter?
Schooling is the place to begin, whether it's at a technical institute, community college, or 4-year college or university. The more formal training you receive, the better your chances with potential employers. The American Design Drafting Association (ADDA) also has a certification program for drafters, which is not always necessary for a job, but is proof to potential employers of your competence in the field and might give you a leg-up on the competition.
...Please wait... more schools are loading...