Doctoral Degrees in Athletic Training
Career summary: Athletic Trainers
Average Salary

$48,420

National Average, Source: Bureau of Labor Statistics

Career Outlook

Very Good

17% job growth from 2021-2031, which is much faster than average
Earn a degree in athletic training from an accredited college
One of the best ways to prepare for a career in athletic training is through a college education. A Doctoral Degree will help you develop entry level skills, general athletic training know how and the basic athletic training experience you need to start your career off right. You may also consider a Post-doctoral Certificate in Athletic Training to help you take your education and career to the next level. Please select athletic training school below.
Overview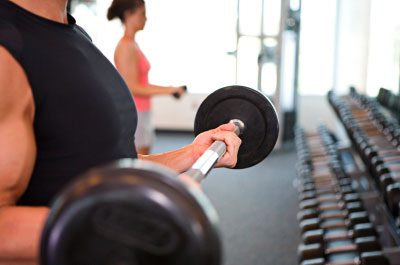 If you're looking for a rewarding career where you can help people recover from an injury, consider an athletic training degree. This degree will prepare you to:



Practice preventative care


Recognize, diagnose, and evaluate injuries


Discuss personalized treatment options with patients


Collaborate with doctors, coaches, and others to develop rehabilitative programs


Perform first aid,

CPR

, and other emergency protocols


Monitor a patient's healing process from time of injury to return to play
Most athletic trainers at least have a bachelor'€™s degree in athletic training, though more than 70 percent hold a master's degree. Once you earn your accredited athletic training degree, you'll qualify to take the Board of Certification exam, which is recognized in 49 different states to receive your license. Other specific requirements for certification to practice athletic training may vary by state.
Job Description
What do athletic trainers do?
Athletic trainers develop strength and conditioning exercises, movements, and stretches for patients. They also track patients' progress to ensure they heal successfully and can safely return to playing their sport.
Athletic trainers are often one of the first specialists on the scene at a game or practice to place ice on a injured bone, apply bandages, or brace a sprained ankle. They also help assess and diagnose athletes with more serious conditions, such as concussions, and help to implement a treatment plan as recommended by a doctor.
Where do athletic trainers work?
Athletic trainers work for a variety of companies and organizations. Some of these include:



Public and private high schools


Colleges and universities


U.S. Olympic centers and sports teams


Hospitals


Health and fitness centers


Sports medicine clinics
Many assume that all athletic trainers work in sports, but that'€™s not true. Athletic trainers also work in corporate offices, the performing arts (with dancers and musicians), manufacturing plants, and even in the military.
Salary
How much does an athletic trainer make?
According to the Bureau of Labor Statistics, as of September 2022, Athletic Trainers earned a median annual wage of $48,420, with the lowest 10 percent earning less than $36,960 and the highest 10 percent earning more than $76,180.
Athletic training positions are projected to grow by 17 percent between 2021 and 2031, which is much faster than average rate compared to all other occupations.
Career Outlook
How popular are athletic training jobs?
Jobs in athletic training are very popular. In fact, the Bureau of Labor Statistics shows that jobs in the industry are expected to grow by 17 percent through 2031. That growth rate is much faster than the growth rate among all jobs. Demand for athletic trainers is expected to increase as people become more aware of the effects of sports-related injuries, and as the middle-aged and older population remains active. Job growth at universities and on professional sports teams are a little more conservative, as many teams have established medical departments. The real growth is coming in hospitals, doctors' offices, and fitness and recreation sports centers.
Career Path
How to get an athletic training degree
To become an athletic trainer, you'll need at least a bachelor's degree. If you'd like to further your career, you can pursue a master's and doctorate degree. These advanced degrees will provide you with more enhanced knowledge and experience in helping diagnose and treat patients back to full recovery. They can also lead to higher leadership positions in athletic training.
Bachelor's Degree
A bachelor's in athletic training provides a solid curriculum that addresses all of the following:
Physical health and wellness
Rehabilitation in sports
Human anatomy and physiology
How to care, treat, and prevent athletic injuries
How to tape and brace injuries
How to evaluate and perform first aid and emergency care
How to recognize any abnormal social, mental, and emotional behaviors in patients that may serve as signs of injury
Orthopedic evaluation and assessment
As part of the bachelor's degree program, you'll also be required to complete a number of hours in clinical field experience. For example, at the University of Nevada Las Vegas, students are assigned to assist an athletic trainer in providing medical care to one the school'€™s sports teams.
Most bachelor's degree programs in athletic training take three to four years to complete. The degree also prepares you for a master's degree, which is offered on-campus, online, or a hybrid of the two.
A Master's Degree
More than 70 percent of athletic trainers hold a master's degree, which usually takes about two years to complete. A master's degree provides you with enhanced knowledge and skills on topics, such as:



Nutrition and conditioning principles to improve sports performance


Health technology


Advanced exercise physiology


Orthopedic surgical interventions


Prevention and emergency management techniques
If you graduated with a bachelor's in a non-athletic training degree but want to pursue a master's in this field, you can find an accredited entry-level master's degree program, such as at Stephen F. Austin University or Spalding University.
A master's degree in athletic training allows you to participate in higher level clinical rotations at a variety of athletic programs in high schools, colleges, professional sports teams, and more. You'€™ll also be better positioned to obtain leadership and management opportunities, such as:
Head athletic trainer
Athletic director
Clinic practice administrator
Recreation leader
Exercise leader
Coach
Doctorate Degree
Along with a bachelor's and a master's degree, you can go on to earn your doctorate in athletic training, where you'll gain expertise in areas like:
Performing research in athletic healthcare
Advanced clinical decision-making when diagnosing and treating patients
Evaluating the safety of healthcare in athletic programs
Professional leadership
Program Accreditation
All bachelor's, master's, and doctorate degrees in athletic training must be accredited by the Commission on Accreditation of Athletic Training Education (CAATE), which defines and measures the quality of athletic training degree programs.
It'€™s also important to note that by fall 2022, the minimum requirements to become an athletic trainer will be changed from a bachelor's degree to a master's degree. As a result, athletic training bachelor's degree programs will no longer be allowed to admit or enroll students.
Prior to 2022, students pursuing a bachelor's degree in athletic training do not need a master's degree to be eligible for the Board of Certification license exam.
Is An Athletic Training Degree Right for You?
A career as an athletic trainer is beneficial in so many ways, from performing life-saving skills like CPR on the scene to helping patients get back on their feet to do what they love. The time spent working closely and communicating with your patients will lead to a relationship of mutual trust and confidence.
Before enrolling in a bachelor's or master's program for athletic training, make sure the program is accredited by CAATE so you can qualify to take the licensure exam. To find an accredited program, visit CAATE's website.
Once you pass your exam, you can choose to work in your preferred environment, whether it's at a school or university or a fitness center.
With a positive job outlook, athletic trainers are high in demand.
Sources
University of Nevada Las Vegas
Spalding University
Commission on Accreditation of Athletic Training Education
Bureau of Labor Statistics
National Athletic Trainers Association
Appalachian State University
*Bureau of Labor Statistics, 2022. Based on national data, not school-specific information. Conditions in your area may vary. https://www.bls.gov/ooh/healthcare/athletic-trainers.htm. Visited September 2022.
Athletic Training Schools (0)
...Please wait... more schools are loading...