Doctoral Degrees in Athletic Training
Career summary: Athletic Trainers
Average Salary

$42,690

National Average, Source: Bureau of Labor Statistics

Career Outlook

Very Good

19% job growth by 2022, which is much faster than average
Earn a degree in athletic training from an accredited college
One of the best ways to prepare for a career in athletic training is through a college education. A Doctoral Degree will help you develop entry level skills, general athletic training know how and the basic athletic training experience you need to start your career off right. You may also consider a Post-doctoral Certificate in Athletic Training to help you take your education and career to the next level. Please select athletic training school below.
Overview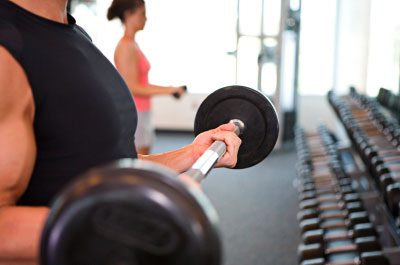 Why would I want an athletic training degree?
There are many reasons why someone would want a degree in athletic training. Some of those reasons include plentiful job opportunities, a steady salary, and an unconventional work environment. If you love sports, like working with people, and have an interest in health and medicine, then a degree in athletic training would be ideal for you.
Job Description
What does an athletic trainer do?
To put it simply, athletic trainers are there to help athletes, performers, and others prevent from getting injuries; and if they happen to get injuries, they help to rehabilitate them. Athletic trainers may work under the direction of a licensed physician, and in cooperation with other healthcare providers. The extent of the direction ranges from discussing specific injuries and treatment options with a physician to performing evaluations and treatments as directed by a physician. Some of the more common places that athletic trainers are employed are listed below:
Colleges and Universities (Sports Teams)
Professional Sports Teams
High Schools (Sports Teams)
Sports Medicine Clinics
Hospitals
Performing Arts
Law Enforcement and Military
In sports and performance settings, athletic trainers spend a lot of hours preparing athletes and performers before a game or a performance by taping ankles, wrapping injuries, and providing other special equipment to ensure safety. After games and performances they are with the athletes and performers icing them down, providing medicine, giving treatments, and giving advice on how to continue to take care of their bodies.
In other environments, such as a hospital or a clinic, athletic trainers may help doctors diagnose injuries, give suggestions for treatment, and see the patients through from diagnosis to therapy. They also are the ones who usually do the rehabilitation according to doctors' instructions.
Salary
How much does an athletic trainer make?
According to the Bureau of Labor Statistics, athletic trainers made a median salary of $39,640 in 2008. Other sources, though, show that average salaries for athletic trainers are much higher, closer to $50,000. At any rate, they do make quite a bit less money than medical doctors, but their salaries have shown a large increase over the past decade. On average, salaries for athletic trainers have gone up %15 to %20, while salaries for doctors have not. Also, the time and expense of becoming an athletic trainer is much less than it is for many jobs in the healthcare industry.
Career Outlook
How popular are athletic training jobs?
Jobs in athletic training are very popular. In fact, the Bureau of Labor Statistics shows that jobs in the industry are expected to grow by %37 through 2018. That growth rate is much, much faster than the growth rate among all jobs. The main thing spurring the job growth is the recognition of their role in reducing health care costs. Job growth at universities and on professional sports teams are a little more conservative, as many teams have established medical departments. The real growth is coming in hospitals, doctors' offices, and fitness and recreation sports centers.
Career Path
How do I become an athletic trainer?
In order to become an athletic trainer you must have at least a bachelor's degree from an accredited institution. Degree programs include training in both classroom and clinical settings. Many athletic trainers who have been in the field for years go on to get a master's or a doctoral degree.
As of 2009, 47 states required that there athletic trainers were licensed or hold some kind of registration. The test for certification usually takes place after you have received your degree. Once you are certified, you must continue taking medical-related courses and adhere to the Board of Certification standards of practice in order to maintain certification.
Athletic Training Schools (0)
...Please wait... more schools are loading...