Doctoral Degrees in Special Education
Career summary: Special Education Teachers
Average Salary

$55,060

National Average, Source: Bureau of Labor Statistics

Career Outlook

Good

6% job growth by 2022, which is below average
Earn a degree in special education from an accredited college
One of the best ways to prepare for a career in special education is through a college education. A Doctoral Degree will help you develop entry level skills, general special education know how and the basic special education experience you need to start your career off right. You may also consider a Post-doctoral Certificate in Special Education to help you take your education and career to the next level. Please select special education school below.
Overview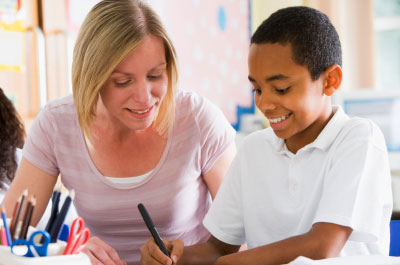 Why would I want a special education degree?
Many people who go into education do it because they love children and teaching, and they want to make a real difference in students' lives. A degree in special education would allow you to teach in a field in which you could truly make a difference in your students' lives. You often times would be working with the same students for multiple years, and classes for special education students are smaller, so you are able to have more one on one time with each student.
Job Description
What do special education teachers do?
Special education teachers have the responsibility of working with and teaching students who have disabilities. These disabilities range from minor to quite severe. Some of the disabilities include specific learning disabilities, speech or language impairments, mental retardation, emotional disturbances, hearing impairments, orthopedic impairments, visual impairments, autism, combined deafness and blindness, traumatic brain injuries, other health impairments, or any combination of the above.
While most students that special education teachers work with have more minor disabilities, like speech impediments, there are some students with severe emotional, physical, and/or mental disabilities that special education teachers also work with. These more severe students have to be taught basic literacy skills and basic life skills.
As you can imagine, special education teachers use different methods in their classrooms than teachers who don't teach students with disabilities. Some of these methods include intensive individualized instruction, problem-solving assignments, and small-group work. The approach that special education teachers use is more individualized, since the needs of their students vary so much. This approach is known as an Individualized Education Program (IEP). These plans set individual goals for the students, and set up a step by step plan for them to transition into the next level (from elementary school to middle school, from middle school to high school, from high school to real life, from special education classrooms to mainstream classrooms, etc.). These goals and transition plans are made with a combined effort from special education teachers, parents, administrators, and general education teachers.
The most common places for special education teachers to be employed at are listed below.
Elementary Schools
Middle Schools
Secondary Schools
Child Day Care Centers
Individual and Family Services
Salary
How much do special education teachers make?
According to the Bureau of Labor Statistics, the median annual salary in 2008 for special education teachers who taught in preschools, kindergartens, and elementary schools (where the majority of special education teachers are employed) was $50,020. The middle 50 percent earned between $40,480 and $63,500. The lowest 10 percent earned less than $33,770, and the highest 10 percent earned more than $78,980. For those who worked in middle schools and secondary schools the median annual salaries were $50,810 and $51,340 respectively.
Career Outlook
How popular are special education teacher jobs?
Jobs in special education are quite popular, and they will continue to be popular into the foreseeable future. Jobs in this field are expected to grow by 17% through the year 2018, which is faster than the average growth rate among all jobs.
The job growth is being spurred by advances in detecting learning disabilities at younger ages. The number of overall students isn't expected to increase during this time, but the number of students being diagnosed with disabilities or special needs is expected to increase due to these advances.
Career Path
How do I become a special education teacher?
All states require special education teachers to be licensed in special education. This usually requires at least a bachelor's degree in special education, along with some kind of specialized training. Due to this extra training, becoming certified as a special education teacher often times takes longer than becoming certified as a general education teacher. All states vary somewhat in their requirements, so check with the state you would like to teach in to see what the exact requirements are for certification.
Special Education Schools (3)
...Please wait... more schools are loading...