Master's Degrees in Culinary Arts
Career summary: Chefs and Head Cooks
Average Salary

$51,530

National Average, Source: Bureau of Labor Statistics

Career Outlook

Very Good

11% job growth by 2028, which is faster than average
Earn a degree in culinary arts from an accredited college
One of the best ways to prepare for a career in culinary arts is through a college education. A Master's Degree will help you develop entry level skills, general culinary arts know how and the basic culinary arts experience you need to start your career off right. You may also consider a Doctoral in Culinary Arts to help you take your education and career to the next level. Please select culinary arts school below.
Overview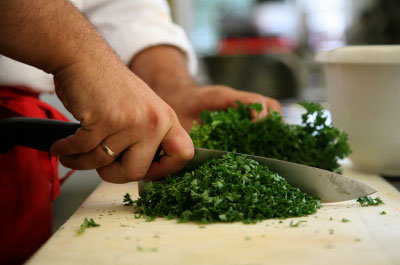 Why would I want a culinary arts degree?
Do you love food? Do you like preparing meals for yourself and/or for others? Do you like receiving praise for your work? If so, then a degree in culinary arts may be the perfect fit for you. A degree in culinary arts will give you the skills you need to start a career in a field that continues to evolve and become more popular, and it will allow you to earn a living doing something you love.
Job Description
What do people with culinary art degrees do?
People who get their degrees in culinary arts go on to become chefs and food managers. They are in charge of overseeing daily food operations of restaurants and other food establishments. There are various types of positions and specialties in culinary arts, and some of the more common ones are listed below.
Head Chefs: They are in charge of every part of a foodservice operation. This includes everything from menu planning, purchasing, hiring and firing of staff, etc. Ultimately, they are responsible for every decision that leads up to the food coming out of the kitchen. One thing to note is that they very rarely do the actual cooking.
Sous Chefs: They are in charge of all of the cooking. In large kitchens, they are the ones who supervise the entire kitchen staff, from the line cookers to the dishwashers. While their job is mainly to supervise, they may actually do some cooking, especially in smaller kitchens.
Chefs de Partie: Often times referred to as line cooks, their job is to work at stations on the hot cooking lines. They are the ones who do the actual cooking. All restaurants are set up a little differently, but some of the most common stations that restaurants have include sauté, roast, and vegetable stations.
Garde Mangers: Also known as pantry chefs, they are in charge of the cold food items such as salads, dressings, cured foods like sausages, as well as pâtés and terrines.
Pastry Chefs: They are in charge of preparing desserts, pastries, and other baked items. Some are also skilled in candy-making.
These days, for someone who is skilled in culinary arts there are even more options than just working at a food establishment. With the Food Network, the Cooking Channel, Youtube, and personal chefs becoming more popular, skilled chefs of all kinds are finding creative ways to share their talents and skills in order to make a good living.
Salary
How much do culinary art professionals make?
According to the Bureau of Labor Statistics, the median annual salary for culinary art professionals in 2019 was $51,530. The middle 50 percent earned between $37,380 and $68,500. The lowest 10 percent earned less than $28,370, and the highest 10 percent earned more than $86,990.
Salaries for culinary art professionals vary greatly depending on the region and the type of establishment they work at. The highest-paying jobs are usually found at high-end restaurants and hotels. Some chefs go on to open their own restaurants. Successful restaurants can easily bring in six-figure incomes.
Career Outlook
Are jobs in culinary arts popular?
Jobs in the culinary art industry are always steady. The growth rate for jobs in this industry is projected to be around 11% through the year 2028, which is faster than the average growth rate among all jobs. The job outlook for chefs is actually really good, partially due to a large number of people expected to leave the industry over the next decade.
Career Path
How do I become a culinary arts professional?
There are various paths you can take in order to become a culinary art professional. Some people start out as dishwashers are food preparers and work their way up the culinary chain. The most efficient way to start your career as a chef, though, is by getting a degree in culinary arts.
You can receive formal training and a degree from any number of community colleges, technical schools, culinary arts schools, or 2-year or 4-year colleges with degrees in hospitality. Those who receive formal training generally earn more money and are promoted before those without formal training.
Culinary Arts Schools (0)
...Please wait... more schools are loading...