Home »
Early Childhood Education
Master's Degrees in Early Childhood Education
Career summary: Preschool Teachers
Average Salary

$27,130

National Average, Source: Bureau of Labor Statistics

Career Outlook

Good

17% job growth by 2022, which is much faster than average
Earn a degree in early childhood education from an accredited college
One of the best ways to prepare for a career in early childhood education is through a college education. A Master's Degree will help you develop entry level skills, general early childhood education know how and the basic early childhood education experience you need to start your career off right. You may also consider a Doctoral in Early Childhood Education to help you take your education and career to the next level. Please select early childhood education school below.
Overview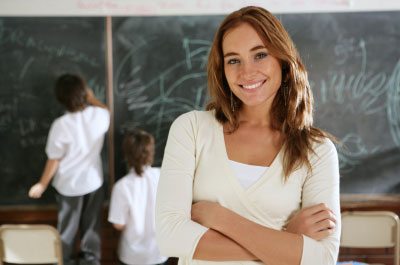 Why would I want an early childhood education degree?
There are many reasons that a degree in early childhood education is desirable. It would allow you to work in a field that would enable you to work with young children and help to shape their minds and course of education; it would allow you to find a job in an expanding field; it would allow you to teach and educate in a less structured environment; and it would give you a good education to help you educate and raise your own children.
Job Description
What do people with early childhood education degrees do?
While there are various career opportunities with a childhood education degree, the focus for professionals in this field is the education and learning of young children (usually focused on children between the ages of 3-8). Some of the most common jobs in early childhood education include:
Preschool Teachers
Kindergarten Teachers
Preschool Administrators
Childcare Workers
Before-/After-School Program Coordinators
Young children learn through play, so early childhood educators build their programs around playing and fun activities. Usually a less structured approach is used to teach young children than is used to teach older children and adults. One important responsibility for early childhood educators is to design games that will help their students develop language skills and social skills and introduce them to mathematical and scientific concepts. Activities which include art, dance, and music introduce children to creative development. Movement that is generated by these games and activities is also important to help children develop large and small motor skills.
Another vital role for early childhood educators is that of teaching children how to read. This is usually done through teaching that is more formal than for many of the other subjects. They are in charge of teaching children the building blocks of reading, namely letter recognition and phonetics. Depending on the grade level and the education level of the children, early childhood educators may also get into more advanced reading skills such as stringing words and sentences together.
Salary
How much do early childhood educators make?
Salaries for early childhood educators vary quite a bit according to position. For example, according to the Bureau of Labor Statistics, the median wage for childcare workers in 2008 was $9.12 per hour, while the median annual wage for preschool teachers was $23,870.
Salaries for kindergarten teachers, elementary school teachers, and administrators continue to go up the scale, potentially doubling the salary of a preschool teacher. Often times the higher paying jobs coordinate with higher education.
Career Outlook
How popular are early childhood education jobs?
Jobs in early childhood education have almost always been popular, and they will continue to be popular into the foreseeable future. Exact figures are difficult to come by, but it is expected that opportunities for professionals in the early childhood education field will increase by about 20% over the next decade.
The main factor spurring growth in this field is the increased awareness of the importance of early childhood learning to later educational success. Some States are even beginning to offer full-day and universal preschool. Another factor spurring growth is the high replacement needs.
Career Path
How do I become an early childhood education professional?
In order to qualify for an entry-level position you need at least an associate's degree in early childhood education. Many jobs require at least a bachelor's degree, though, in early childhood education for qualification. The higher paying jobs, like administrator jobs, require a master's degree in education or early childhood education. Degrees in child development may also satisfy qualification for jobs in early childhood education.
Licensing for childcare, preschool teachers, and kindergarten teachers varies from state to state, so check with your state or school to find out what the exact requirements are to receive a license in your career of interest.
Early Childhood Education Schools (3)
...Please wait... more schools are loading...