Home »
Medical Technology
Master's Degrees in Medical Technology
Career summary: Medical Technologists
Average Salary

$53,120

National Average, Source: Bureau of Labor Statistics

Career Outlook

Very Good

11% job growth by 2028, which is much faster than average
Earn a degree in medical technology from an accredited college
One of the best ways to prepare for a career in medical technology is through a college education. A Master's Degree will help you develop entry level skills, general medical technology know how and the basic medical technology experience you need to start your career off right. You may also consider a Doctoral in Medical Technology to help you take your education and career to the next level. Please select medical technology school below.
Overview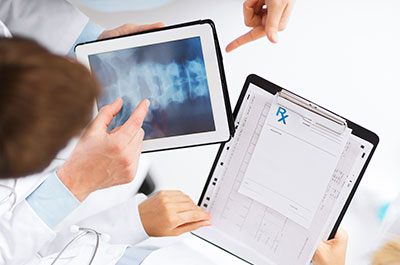 Why would I want a degree in medical technology?
Medical laboratory technologists (commonly known as medical laboratory scientists) and medical laboratory technicians collect samples and perform tests to analyze body fluids, tissue, and other substances.
Job Description
What does a medical technologist do?
Medical laboratory technologists and technicians typically do the following:
Analyze body fluids, such as blood, urine, and tissue samples, and record normal or abnormal findings
Study blood samples for use in transfusions by identifying the number of cells, the cell morphology or the blood group, blood type, and compatibility with other blood types
Operate sophisticated laboratory equipment, such as microscopes and cell counters
Use automated equipment and computerized instruments capable of performing a number of tests at the same time
Log data from medical tests and enter results into a patient's medical record
Discuss results and findings of laboratory tests and procedures with physicians
Supervise or train medical laboratory technicians
Salary
How much does a medical technologist make?
The median annual wage for medical laboratory technologists and technicians was $53,120 in May 2019. The median wage is the wage at which half the workers in an occupation earned more than that amount and half earned less. The lowest 10 percent earned less than $30,920, and the highest 10 percent earned more than $81,530.
Career Outlook
How popular are jobs in medical technology?
An increase in the aging population will lead to a greater need to diagnose medical conditions, such as cancer or type 2 diabetes, through laboratory procedures. Medical laboratory technologists and technicians will be in demand, to use and maintain the equipment needed for diagnosis and treatment.
Career Path
How do I become a medical technologist?
A bachelor's degree program in medical laboratory technology includes courses in chemistry, biology, microbiology, mathematics, and statistics, as well as courses in clinical laboratory skills, management, and education. This degree often is known as a medical laboratory scientist degree.
The courses may be offered through a hospital-based program that students attend during their senior year of college. College graduates who major in other sciences and meet a program's prerequisites, such as having completed required courses in biology and chemistry, also may apply to a medical laboratory science program.
Medical Technology Schools (0)
...Please wait... more schools are loading...