Home »
Medical Coding & Billing
Master's Degrees in Medical Coding & Billing
Career summary: Medical Records and Health Information Technicians
Average Salary

$40,350

National Average, Source: Bureau of Labor Statistics

Career Outlook

Very Good

11% job growth by 2028, which is much faster than average
Earn a degree in medical coding & billing from an accredited college
One of the best ways to prepare for a career in medical coding & billing is through a college education. A Master's Degree will help you develop entry level skills, general medical coding & billing know how and the basic medical coding & billing experience you need to start your career off right. You may also consider a Doctoral in Medical Coding & Billing to help you take your education and career to the next level. Please select medical coding & billing school below.
Overview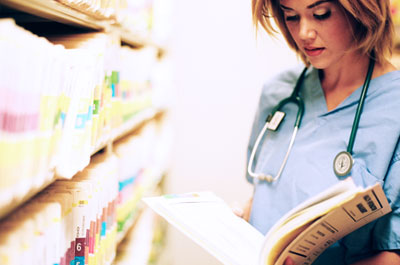 Why would I want a degree in medical coding and billing?
The three main advantages to a degree in medical coding and billing are a high job demand, good salaries, and it only takes two years to complete it. Medical coding and billing also offers a good working environment with set hours. If you are one who pays attention to details, are good at clerical work, and have an interest in the medical and insurance industry, then this is a degree that you should highly consider. You can reach advisors for medical coding and billing programs at UMA at (855) 266-8152.
Job Description
What do people with a medical coding and billing degree do?
People in the medical and coding industry submit and follow up on claims to insurance companies in order to receive payment for services rendered by a healthcare provider. The same process is used for most insurance companies, whether they are private companies or government-owned.
Coders and billers work with patients to obtain medical records and histories. They also work with medical personnel to verify information and to make sure that all the information is transferred properly and in full.
Customer service is very important, as the people they contact are either colleagues, or they are patients who could be at stressful points in their lives. Successful coders and billers should also know medical terminology, anatomy, proper form completion, and required coding. They also have at least a basic knowledge of information systems and have proficient typing skills.
Professionals in the industry may be found working in all kinds of healthcare facilities which include: doctors' offices, insurance companies, hospitals, clinics, assisted living facilities, or any other healthcare provider. Some of the most common jobs in the industry are listed below.
Medical Coder
Insurance Claims Analyst
Coding Specialist
Abstractor
Coding Technician
Medical Billing Specialist
Salary
How much do people in the medical coding and billing industry make?
In 2019, the middle 50% of Medical Records and Health Information Technicians earned $32,070 – $52,730. According to a national survey that was done by the AAPC, compensation differences resulted from several influences: employers, training, worksites, schedules, the complexity of the coding being done, and geographical location. For example, business size impacts your average salary, certified or not. Those who work for larger employers tend to get paid more.
There are also some specialties that tend to get paid more than others. The top 5 paying industries in the coding and billing industry are listed below.
Pharmaceutical and Medicine Manufacturing: $62,740
Insurance Carriers: $52,830
Scientific Research and Development Services: $52,100
Federal Executive Branch: $50,320
Business, Professional, Labor, Political, and Similar Organizations: $50,260
Career Outlook
How popular are medical coding and billing jobs?
In the foreseeable future, jobs in the coding and billing industry will continue to be the fastest growing industry in the medical field. According to the Bureau of Labor Statistics, the job growth rate will be 1% through the year 2028, which growth rate is much faster than the average growth rate among all jobs. Spurring this growth is the need for insurance companies and the government to control claims' fraud, abusive practices, and medical necessity issues.
Career Path
How can I become a professional in the medical coding and billing industry?
Actually, there is no formal education that is needed in order to become a medical coding and billing professional. Although, with insurance companies and the government trying to control medical and billing fraud, employers are looking more and more for those who do have formal education, training, and credentials in coding and billing.
Degrees for medical coding and billing are usually two year programs; although, some may last as little as nine months. There are also certifications that are offered by various institutions. It would be best to advise someone at your school to find out which certifications would be the most appropriate for your given situation.
Medical Coding & Billing Schools (2)
...Please wait... more schools are loading...