Tutoring/Supplemental Education in Interior Design
Career summary: Interior Designers
Average Salary

$56,040

National Average, Source: Bureau of Labor Statistics

Career Outlook

Good

4% job growth by 2028, which is as fast as average
Earn a degree in interior design from an accredited college
One of the best ways to prepare for a career in interior design is through a college education. A Tutoring/Supplemental Education will help you develop entry level skills, general interior design know how and the basic interior design experience you need to start your career off right. You may also consider a Diploma in Interior Design to help you take your education and career to the next level. Please select interior design school below.
Overview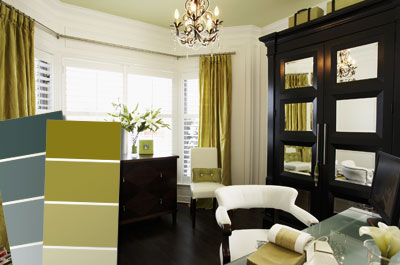 What skills do I need to become an interior designer?
Interior Designers need to be creative to start with, with an understanding of how certain colors, textures, patterns, lighting, and furniture work together in a space. They also need to be able to read and understand blueprints, be aware of building and fire codes, and make sure spaces are handicap accessible. It's also good to know computer-aided design (CAD) software, as more and more businesses are using this and will look for an interior designer with this skill set. Interior designers also need to be good with time management, keeping to a schedule, sticking to a budget, and working well with others.
Job Description
What does an Interior Designer do?
Interior designers work with clients to design interior spaces of buildings to gain a specific effect (soothing, welcoming, concentration-inducing), depending on the space. They work with individuals, businesses, and architects to come up with a plan including lighting, furniture, wall colors, and all of the details down to the carpets, cushions, and crown molding. They could work on any number of buildings, including private homes, hospitals, businesses, airport terminals, shopping malls, movie and live theaters, schools, and more. Some interior designers are starting to work more and more with green design – trying to make a home or a business as environmentally friendly as possible. Designs could include recycling areas, solar panels, carpets or other building materials made from recycled or chemical-free materials, and using energy-efficient appliances and materials.
5 Common Careers:
Commercial Interior Designer
Home Interior Designer
Product Sales Representative
Design Firm Owner/Partner
House Painter
Salary
What classes will I take to get a degree in Interior Design?
Some of the classes you'll take as an Interior Design major will be similar to these: Interior Design, Computer-Aided Design, Interior Design Graphics, Interior Lighting Design, Space Planning, History of Interiors and Furniture, Interior Structures and Materials, Textiles & Patterns, and Beginning Architecture.
Career Outlook
How popular are jobs in Interior Design?
According to the Bureau of Labor Statistics, employment for interior designers is expected to increase 4 percent from 2018 to 2028, as fast as average compared to other fields. Designers will be needed to respond to consumer expectations that the interiors of structures meet certain conditions, such as being environmentally friendly and easily accessible. In addition to the demand created by new construction, demand for interior designers will also arise from the need to remodel and renovate existing homes, commercial buildings, and other facilities, such as hospitals, hotels, and schools. For example, interior designers will be needed to help accommodate the future living needs of an aging population, especially for people who choose to stay in their homes.
Career Path
How do I become an Interior Designer?
Schooling is the first step to becoming an interior designer. 2-3 year associate's degree programs as well as 4-year degrees are offered in this area of study, and are the place to start. Most states require at least an associate's degree in order to become a certified interior designer. Once you are done with school, Master's degree programs or apprenticeships are the next step. Becoming an apprentice will allow you on the job training and a chance to work with those experienced in the field. They will also give you a leg-up on the competition. Check your state's requirements for becoming certified in interior designer to see what steps you need to take.
Interior Design Schools (0)
...Please wait... more schools are loading...