Nursing Degrees
Career summary: Registered Nurses
Average Salary

$73,300

National Average, Source: Bureau of Labor Statistics

Career Outlook

Very Good

12% job growth by 2028, which is much faster than average
Earn a degree in nursing from an accredited college
As a profession, nursing focuses on the direct medical care and assistance given to individuals and families for prevention, diagnosis and cure of diseases, injuries and other health concerns. In many respects, nursing is based on the ideal of service to one's fellow beings, often characterized with the willingness to perform under demanding circumstances requiring sacrifice of one's own time and comfort for the well-being of others. Because of this and the intense education often required, nurses tend to command a high amount of respect in our society.
Overview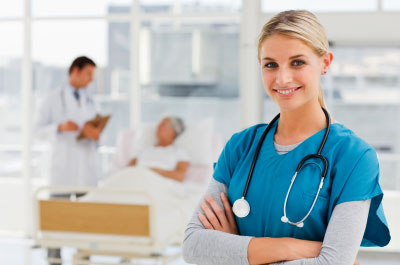 Why would I want a nursing degree?
A nursing degree is very desirable. It allows you to work in almost all areas of medicine; it will provide you with ample employment opportunities; and nursing degrees can be relatively simple to obtain. If you like helping others, are attentive, and have an interest in health and medicine, then a nursing degree would be a good fit for you.
Job Description
What do nurses do?
Registered nurses, also known as RN's, regardless of specialty or work setting, treat patients under doctors' supervision, educate patients and the public about various medical conditions, and provide advice and emotional support to patients' family members. Their day to day duties include recording patients' medical histories and symptoms, helping to perform diagnostic tests and analyzing results, operating medical machinery, administering treatment and medications, and helping with patient follow-up and rehabilitation.
In general, nurses are doctors' right hand men or women. After doctors give their diagnoses and prescribe medicine and/or perform procedures, then patients are turned over to the nurses for the rest of their care. Since nurses perform most of the tasks that are related to patients healing and recovery, they often times develop a more personal relationship with their patients, which is a draw for many who choose to go into the nursing profession.
Once patients are on their way to recovery, nurses will map out a plan for the patients to follow once they are no longer under direct supervision of healthcare professionals. Nurses often counsel not only the patients, but also their families, so communication skills and the ability to educate others is an important aspect of the profession.
Some of the other duties that are common for nurses include administering medication (orally and intravenously); administering therapies and treatments; taking and recording vital signs; observing patients and recording the observations; starting, maintaining, and discontinuing intravenous (IV) lines for fluid; assisting physicians in surgery, and consulting with physicians and other healthcare clinicians about patients' conditions.
Nurses can be found in all kinds of healthcare facilities and medical settings. The places that hire the highest percentage of nurses are listed below.
Physicians' Offices
Home Health Care Services
Nursing Care Facilities
Employment Services
Hospitals
Salary
How much do nurses make?
Salaries for nurses actually vary quite a bit according to education level, experience, trained specialties, and place of employment. According to the Bureau of Labor Statistics, the median annual salary for nurses in 2019 was $73,300. The middle 50 percent earned between $60,110 and $90,760. The lowest 10 percent earned less than $52,080, and the highest 10 percent earned more than $111,220.
Career Outlook
How popular are nursing jobs?
Nursing jobs have always been quite popular, and they will continue to be popular into the foreseeable future. Nursing jobs are expected to grow by 12% through the year 2028, which is much faster than the average growth rate among all jobs. Between the years 2018 and 2028, it is projected that about 371,500 new jobs will be created in nursing.
Spurring this growth is an aging population, much of which will need long-term care. Due to this, jobs in hospitals will see a much slower increase in jobs compared to places like residential care facilities, which will see a spike in new jobs.
Career Path
How do I become a nurse?
You must receive some kind of a degree in nursing and pass certain examinations before becoming a nurse. The most common educational pathways are bachelor's degree, an associate degree, or a diploma from an approved nursing program.
Advancement opportunities are generally more limited for those who have only obtained a diploma, especially compared to registered nurses who have received a bachelor's degree, so that is something to consider when deciding which path to take. Many people decide to get a diploma or an associate's degree first, and then they work on completing their bachelor's degree while working as a nurse.
...Please wait... more schools are loading...