Home »
Healthcare Administration / Management
Healthcare Administration / Management Degrees
Career summary: Medical and Health Services Managers
Average Salary

$100,980

National Average, Source: Bureau of Labor Statistics

Career Outlook

Excellent

18% job growth by 2028, which is much faster than average
Earn a degree in healthcare administration / management from an accredited college
Health care is the largest industry in our country, and as such, employs a vast number of people in a large variety of occupations. As the name implies, health care includes any type of work that involves prevention, diagnosis, cure, rehabilitation or any kind of treatment to improve the quality of life for those who are ailing physically or mentally. It can also involve measures to improve the overall health of the general population. Health care managers oversee the day-to-day operation health organizations such as medical and dental offices, nursing homes, and rehabilitation facilities and small hospitals and clinics.
Overview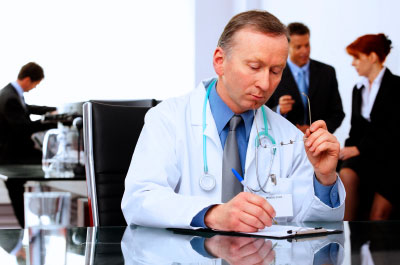 Why would I want a healthcare administration or management degree?
In short, the jobs in this field are plentiful and the salaries are good. If you have an interest in the medical field, but you don't necessarily want to be a doctor or nurse, then this may be a good choice for you. A degree in healthcare administration/management gives you a background in the medical industry from a business and management perspective. In many ways, it gives you the best of both the medical and the business industries.
Job Description
What do healthcare administrators/managers do?
Simply stated, health care administrators plan, coordinate, and supervise the functions of health care facilities and the staff that works there. There are basically two types of administrators, generalists and specialists. Generalists manage an entire facility, while specialists manage operations of a specific department such as policy analysis, finance, accounting, budgeting, human resources, or marketing.
In today's healthcare market, healthcare administrators are more important than ever. The structure and financing of healthcare are changing at a very fast pace, and in order for a facility to run efficiently, it needs an administrator that is up to date on the latest technology, medical research, and policies that govern the medical field.
Specific responsibilities of a healthcare administrator or manager depend on the facility he or she works in. In large facilities such as hospitals, assistant administrators or managers help to handle daily decisions. In smaller facilities such as nursing homes, administrators and managers handle more details of the daily operations such as managing personal, finances, and admissions, while still providing resident care. The type of facilities that hire the highest amount of healthcare administrators and managers include:
Hospitals
Outpatient Care Centers
Doctors' Offices
Home Healthcare Services
Nursing Care Facilities
Salary
How much do healthcare administrators and managers make?
According to the Bureau of Labor Statistics, the median annual salary for healthcare administrators and managers was $100,980 in 2019. Administrators of large hospitals tend to earn even more. In fact, some earn as much as half a million dollars a year.
Career Outlook
How popular are healthcare administrator and management jobs?
Jobs in this profession are popular, and they will continue to be popular for the foreseeable future. Exact statistics on job growth vary quite a bit, anywhere from 16% to 35%. At any rate, the job outlook is very good and the growth rate is much faster than the average job growth rate.
Hospitals will continue to provide jobs for administrators and managers, but the high growth rate in the profession will be due to the high job creation in clinics, outpatient care facilities, and health practitioners.
Career Path
How do I become a healthcare administrator/manager?
There are various paths to becoming a healthcare administrator or manager. All of these paths, though, require at least a bachelor's degree. A bachelor's degree may help you get your foot in the door for an entry level position. If you want to go very far in the profession, you should prepare yourself to earn at least a master's degree.
A bachelor's degree in healthcare administration/management is a good place to start. Once you have obtained a bachelor's degree, it would be wise to gain some experience in the medical industry. After some experience in the field, it would be best to consider a master's degree in health services administration, long-term care administration, health sciences, public health, public administration, or business administration.
Healthcare Administration / Management Schools (34)
...Please wait... more schools are loading...