Diplomas in Foreign Language
Career summary: Interpreters and Translators
Average Salary

$51,830

National Average, Source: Bureau of Labor Statistics

Career Outlook

Excellent

19% job growth by 2028, which is much faster than average
Earn a degree in foreign language from an accredited college
One of the best ways to prepare for a career in foreign language is through a college education. A Diploma will help you develop entry level skills, general foreign language know how and the basic foreign language experience you need to start your career off right. You may also consider a Bachelor's in Foreign Language to help you take your education and career to the next level. Please select foreign language school below.
Overview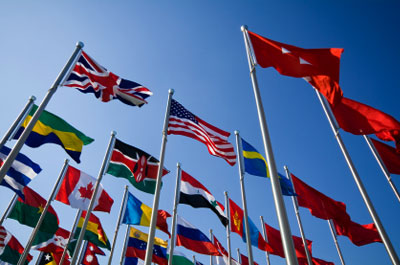 Why would I want a foreign language degree?
As globalization becomes more and more apparent in our society, the skill of being able to speak and proficiently use a foreign language becomes more and more marketable. If you have an interest in foreign cultures, if you like learning about foreign cultures, or if you just want to get an edge in your chosen field, then a foreign language degree would be a good option for you.
Job Description
What do people with foreign language degrees do?
There are a multitude of fields that people who earn foreign language degrees go into. No matter the field, those people who have degrees in a foreign language are more marketable than those who do not. With that said, people who have foreign language degrees and are not in the education or translation fields generally also have a degree or an expertise in another field or industry. Those who only have foreign language degrees usually go into the education or translation industry.
Some of the most common jobs for people with foreign language degrees who don't have degrees in other areas to compliment their language degrees are listed below.
Translators: They translate any number of documents including books, journal articles, poetry, short stories, and contracts. It should be noted that one of the main differences between translators and interpreters is that translators convert written material from one language to another, while interpreters convert one spoken language to another.
Judiciary Interpreters: They facilitate communication for people who have difficulty communicating in the language used by the courts or legal proceedings. They must have sufficient knowledge of the legal system and language.
Medical Interpreters: Help people with limited language skills communicate with doctors, nurses, and other healthcare professionals to help patients receive the care that they need. Healthcare interpreters must be proficient in specialized medical language and local medical practices.
Conference Interpreters: They work at conferences in which there are prominent figures at the conference who don't speak the same languages. These types of conferences are generally in the field of diplomacy or international business. Due to the high stakes of these types of conferences, conference interpreters must be highly trained and skilled.
Language Teachers: They teach foreign languages at all levels (from preschool to university). Under most circumstances, they must have post-graduate degrees in the language they are teaching in order to be qualified for the positions.
Salary
How much do language translators and interpreters make?
According to the Bureau of Labor Statistics, the median salary for language translators and interpreters in 2019 was $51,830. The middle 50 percent earned between $37,740 and $71,590. The lowest 10 percent earned less than $28,170, and the highest 10 percent earned more than $94,370. Those who were language specialists for the Federal Government earned a significantly higher median salary at $83,300.
Career Outlook
How popular are language translator and interpreter jobs?
Jobs in this field are quite popular, and they will continue to be popular into the foreseeable future. It is projected that jobs for translators and interpreters will increase by 19% through the year 2028, which is much faster than the average growth rate among all jobs.
Spurring this growth is the increased amount of foreigners moving to the United States who don't have proficient English skills, as well as the broadening of international ties and international business.
Career Path
How do I become a translator or interpreter?
In order to become a translator or an interpreter, you must be proficient in at least two languages. The more languages you are proficient in, the more marketable you are. If you are a native English speaker and are proficient in another language that's high in demand, however, you will always have plenty of job opportunities. The best way to gain the language skills needed for these types of jobs is by getting a degree in the targeted foreign language. Aside from formal study, it would be good to place yourself in an environment in which that language can be used on at least a weekly, if not daily, basis.
Once the required language skills are acquired, there are a number of government agencies that you could test with for employment. Other areas of opportunity might exist at hospitals or large business corporations that have an overseas presence.
Foreign Language Schools (0)
...Please wait... more schools are loading...