Master's Degrees in Marketing
Career summary: Advertising and Marketing Managers
Average Salary

$135,900

National Average, Source: Bureau of Labor Statistics

Career Outlook

Good

8% job growth by 2028, which is slightly faster than average
Earn a degree in marketing from an accredited college
One of the best ways to prepare for a career in marketing is through a college education. A Master's Degree will help you develop entry level skills, general marketing know how and the basic marketing experience you need to start your career off right. You may also consider a Doctoral in Marketing to help you take your education and career to the next level. Please select marketing school below.
Overview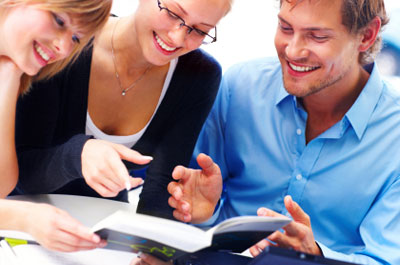 Why would I want a marketing degree?
Marketing is a very exciting field that combines elements from psychology, business, and communications. Marketing is often times the difference between the success or failure of a product or even a whole company. If you thrive under high pressure and a constantly changing environment, then marketing would be a good field for you.
Marketing positions also pay well. Often times marketing is a high risk and high reward type of environment. Those who do well in the industry are compensated quite handsomely.
Job Description
What does a marketer do?
People in the marketing industry are responsible for getting a product to market. It involves everything from concept, to pricing and promotion, to advertising, to sales and distribution. Due to all the different responsibilities of the marketing department, there are usually quite a few different positions that make up the departments.
Some of the most common positions in large marketing departments include:
Advertising Managers: Direct firms' advertising campaigns. They work with various departments, including sales, to generate ideas for the campaign. They oversee a creative staff that develops the advertising, and they work with the finance department to set a budget for the campaign.
Brand Management: Are responsible for building the brand of a product or company. They are focused on the big picture and have to keep an eye on their competitors to be able to differentiate their brand from the competitors' brand. Due to the nature of their responsibilities, they are often likened to a small business owner.
Market Researchers: Are responsible for researching the intended target market. There is a lot of psychology and study of human behavior in this job, because in order to capture a market, you must first understand the market. It involves understanding the consumers, their needs, purchasing habits, etc.
Promotions: Are responsible for promotion programs, which combine advertising with purchasing incentives (such as special discounts, coupons, samples, gifts with purchase, rebates, and sweepstakes) to increase sales. It usually involves direct mail, telemarketing, in-store displays, advertisements, product endorsements, and/or special kick-off events.
Public Relations: Are in charge of making sure that the general public has a favorable image of the company. They do this through managing the communications with the media, consumers, employees, investors, and the general public.
Salary
How much does a marketer make?
Marketers make a higher median salary than the average median salary among all industries. The middle half of Marketing Managers earned between $ 97,710 and $185,320, while the bottom ten percent earned $ 71,010, and the top ten percent earned over $185,320.. The high salaries in marketing are one of the big draws to the industry. Since a company's success hinges largely on its marketing, they are willing to pay big bucks for good talent.
Career Outlook
How popular are marketing jobs?
Marketing jobs are expected to grow by about 8% over the next decade according to the Bureau Labor of Statistics, which is about average job growth compared to other industries. Spurring on the industry is the amount of new products and services that are being developed and the need for these products and services to stand out among the others.
Career Path
How do I become a marketer?
Usually a degree in business is needed in order to break into the marketing industry. A bachelor's degree in marketing is always a good, safe way to go. There are other degrees, though, that would be very helpful in the marketing industry. Some of these degrees include business law, management, economics, accounting, finance, mathematics, and statistics. If you want to be really marketable, you could double major in marketing and one of these other disciplines.
Once you have some work experience in the industry, it would be very advantageous to go back to school to get an MBA. Most MBA programs offer an emphasis in marketing. Adding an MBA to your credentials would qualify you for management and other higher paying positions.
...Please wait... more schools are loading...