Diplomas in Public Health
Career summary: Epidemiologist (Public Health Professional)
Average Salary

$70,990

National Average, Source: Bureau of Labor Statistics

Career Outlook

Good

5% job growth by 2028, which is as fast as average
Earn a degree in public health from an accredited college
One of the best ways to prepare for a career in public health is through a college education. A Diploma will help you develop entry level skills, general public health know how and the basic public health experience you need to start your career off right. You may also consider a Bachelor's in Public Health to help you take your education and career to the next level. Please select public health school below.
Overview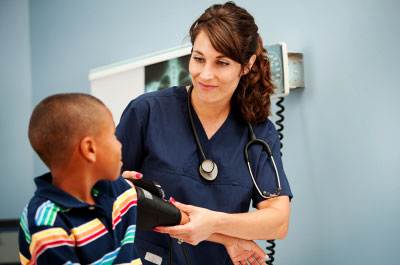 Why would I want a public health degree?
The biggest reason public health degrees are so desirable is because of the wide variety of job opportunities that can be found in the public health field. Whether it's crunching numbers, conducting research, or working with people, there's something for everyone in the public health industry. If you are one who gains satisfaction in knowing you are working to improve the lives of others, then a degree in public health should be at the top of your consideration list.
Job Description
What do public health professionals do?
In brief, public health professionals work to improve the health and quality of life for entire communities. They help to find answers to societal health issues, and they increase awareness of public health and safety issues in order to prevent illnesses and injuries.
Public health graduates can find career opportunities in both the public and the private sector. With that said, many public health grads find work in the public sector working in local, state, and federal health departments. Some of the jobs that can be found in health departments include health educators, food safety inspectors, policy analysts, and epidemiologists.
Two other popular areas of public health include research at universities and positions in non-profit organizations. Two of the most popular non-profit organizations involved in public health are the American Cancer Society and the Red Cross. The most common jobs in the private sector can be found in pharmaceutical companies and health insurance companies.
Some of the most common jobs in public health are listed below.
Health Care Managers/Administrators: Plan and direct health services in places such as hospitals, clinics, public health agencies, and managed care organizations.
Health Education/Behavioral Science: Plan, organize, and direct health education programs for large groups and the community.
Epidemiologists: Investigate and describe the determinants and distribution of disease and disability in a given population.
Environmental Health: Are scientists who apply public health principles to control, eliminate, and/or prevent environmental health hazards.
Biostatisticians: Apply numerical data to investigate health trends and issues.
Public Health Practitioners: Apply findings from epidemiology, biostatistics, behavioral science, and environmental health to health problems in order to promote health and disease prevention.
International Health Specialists: Focus on helping to improve health standards in developing countries.
Nutritionists: Study the effects of nutrition on health and publish their findings in order to promote health and disease prevention.
Biomedical Scientists: Research medicines and cures for diseases that affect large populations.
Salary
How much to public health professionals make?
Due to the large variety of professions in the public health field, it is difficult to list an average salary among all of the professions. Listed below are annual salary averages for some of the most common jobs in the public health field.
Epidemiology: $56,220 – $92,600
Nutritionists: $50,220 – $74,900
Social and Community Service Managers: $52,480 – $88,180
Career Outlook
How popular are public health jobs?
Jobs in public health are quite popular, and they will continue to be popular into the foreseeable future. According to the Bureau of Labor Statistics, jobs in public health will be among those that have the largest numerical increases in employment. Some of the factors that will spur this growth include continued increase in population growth and an increase in life expectancy.
Career Path
How do I become a public health professional?
A bachelor's degree is generally required for any entry level possession in public health. If you have a specified field that you want to focus on, then it would be best to get a degree in that particular field (i.e. getting a statistics degree if you would like to be in biostatistics). In those types of situations, it wouldn't hurt to double major in public health and in your specified field. If you want to explore your options, then getting an associate's or a bachelor's degree in public health would be your best option.
The vast majority of public health possessions require at least a master's degree in order to progress in your career as a public health professional. There are master degrees offered in public health as well as other specified fields.
Public Health Schools (0)
...Please wait... more schools are loading...