Diplomas in Massage Therapy
Career summary: Massage Therapists
Average Salary

$42,820

National Average, Source: Bureau of Labor Statistics

Career Outlook

Excellent

22% job growth by 2028, which is much faster than average
Earn a degree in massage therapy from an accredited college
One of the best ways to prepare for a career in massage therapy is through a college education. A Diploma will help you develop entry level skills, general massage therapy know how and the basic massage therapy experience you need to start your career off right. You may also consider a Bachelor's in Massage Therapy to help you take your education and career to the next level. Please select massage therapy school below.
Overview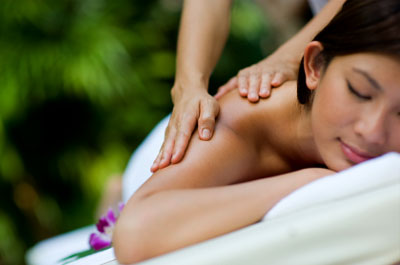 Why would I want a degree in massage therapy?
There are many benefits to getting a degree in massage therapy. Some of them include the ability of having your own business and working your own hours, the possibility of working in exotic destinations, having the ability to help others, and being in a growing industry. If you like helping others, are independent, and have the discipline to set your own hours, then a degree in massage therapy might be just the thing you are looking for.
Job Description
What do massage therapists do?
Massage therapists use touch to manipulate the soft-tissue muscles of the body. This is done to promote healing, reduce stress, decompress overworked muscles, rehab sports and other injuries, and treat painful ailments.
Massage therapists generally work by appointment only. Before beginning a massage therapy session, therapists conduct an informal interview with the client to find out about the person's medical history and desired results from the massage. This gives the therapist a chance to discuss which techniques would be most beneficial to the client and even which techniques could possibly be harmful. There are over 80 different techniques in massage therapy that are used on patients. These techniques are known as modalities. While most massage therapists know many of these modalities, they typically specialize in just a few of them. Some of the more common modalities include Swedish massage, deep-tissue massage, reflexology, acupressure, sports massage, and neuromuscular massage.
One of the draws to massage therapy is the wide variety of work environments in the industry. For those who are young and adventurous, the idea of being able to work on a cruise ship or at a destination resort is the reason they get into massage therapy. Others like the idea of owning their own business and being able to work out of the comfort of their own home while being able to set their own hourly rates. Those who are interested in the medical industry may find themselves working in a physician's or a chiropractor's office. Some of the most common places of employment for massage therapists are listed below:
Destination Resorts
Physicians' Offices
Chiropractor's Offices
Clients' Homes or Own Home/Office
Sports Medicine Facilities
Hotels
Salary
How much to massage therapists make?
According to the Bureau of Labor Statistics the median wage for message therapists in 2019 was $20.59 per hour. That includes gratuities as well as total time worked (not just actual massage time). The middle 50 percent earned between $14.14 and $28.54. The lowest 10 percent earned less than $10.49, and the highest 10 percent earned more than $38.76.
Since many massage therapists only work part-time, average annual salaries are difficult to calculate. Often a portion of massage therapists' wages include gratuities unless therapists work in a clinical setting such as a hospital.
Career Outlook
Are jobs in massage therapy popular?
Jobs in massage therapy are quite popular, and they will continue to be popular for the foreseeable future. Through the year 2028, jobs are expected to grow by 22%. That growth rate is quite a bit faster than the average growth rate among all jobs.
The factors spurring job growth in this industry are the increased interest in alternative medicine, insurance companies' recognition of massage as a legitimate therapy, its increased popularity as a method of relaxation, and an aging population with deposable income to spend on such luxuries. All of this has led to an increased amount of spas offering massage treatment and an increased number of massage clinic franchises.
Career Path
How do I become a message therapist?
In order to become a massage therapist you must receive proper training by someone who is licensed to give that type of training, and in most states you must pass a licensing exam. There are many colleges and courses across the country that offer degrees in massage therapy. In order to be eligible for these programs you must hold at least a high school diploma.
Most programs require at least 500 hours of study in order for completion. Areas of study include anatomy, physiology, kinesiology, business management, ethics, and the hands-on practice of massage techniques.
Massage Therapy Schools (10)
...Please wait... more schools are loading...