Diplomas in Pharmacy
Career summary: Pharmacy Technicians
Average Salary

$33,950

National Average, Source: Bureau of Labor Statistics

Career Outlook

Good

7% job growth by 2028, which is slightly faster than average
Earn a degree in pharmacy from an accredited college
One of the best ways to prepare for a career in pharmacy is through a college education. A Diploma will help you develop entry level skills, general pharmacy know how and the basic pharmacy experience you need to start your career off right. You may also consider a Bachelor's in Pharmacy to help you take your education and career to the next level. Please select pharmacy school below.
Overview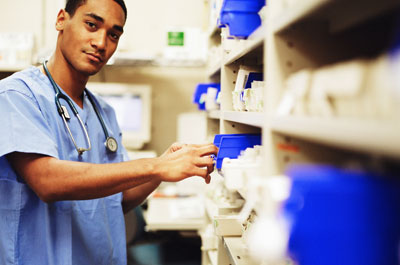 Why would I want a pharmacy technician degree?
Getting a pharmacy technician degree would set you up for a steady job in a field that has an excellent outlook, and a pharmacy technician degree can be completed in as little as six months. If you possess strong attention to detail, a talent for working with customers, and a desire to help people to improve their health, then a career as a pharmacy technician could be right up your alley.
Job Description
What to pharmacy technicians do?
Simply stated, pharmacy technicians are responsible for assisting pharmacists in running a pharmacy. They do a lot of the support work and the "behind the scenes" work that keep pharmacies running smoothly. In many respects, pharmacy technicians are to pharmacists as nurses are to physicians.
Pharmacy technicians are responsible for both clerical duties and pharmaceutical duties. Some of the clerical duties include acting as a cashier, managing money, answering phone calls, supply and stock shelves, establishing and maintaining patient records and profiles, tracking insurance information, assisting patients with insurance forms, labeling products, and pricing and filing prescriptions. If it is a bigger pharmacy which also employs pharmacy aides, then the pharmacy aids would assist in many of these clerical tasks.
Some of pharmacy technicians' pharmaceutical duties include preparing the prescriptions, retrieving, counting, pouring, weighing, measuring, and sometimes mixing medications. Other duties that are directly related to pharmaceuticals include receiving prescriptions from physicians' offices, verifying prescriptions from physicians, and verifying that the information on prescriptions is complete and accurate.
One important distinction, among others, between pharmacy technicians and pharmacists is that pharmacy technicians cannot legally consult with patients about their medications. All questions of that nature must be answered by a licensed pharmacist.
The highest percentages of places that employ pharmacy technicians include the following:
Health and Personal Care Stores
General Medical and Surgical Hospitals
Other General Merchandise Stores
Grocery Stores
Department Stores
Salary
How much to pharmacy technicians make?
According to the Bureau of Labor Statistics, the average annual salary for pharmacy technicians in 2019 was $33,950. Pharmacy technicians are usually paid by the hour. The average hourly wage for pharmacy technicians in 2019 was $16.32. The middle 50 percent earned between $13.45 and $19.44. The lowest 10 percent earned less than $11.60, and the highest 10 percent earned more than $23.62.
Career Outlook
How popular are pharmacy technician jobs?
Pharmacy technician jobs are quite popular, and they will continue to be popular into the foreseeable future. Jobs in this profession are projected to increase by 7% through the year 2028, which is faster than the average growth rate among all jobs.
There are two main factors that will spur the growth in the pharmacy technician profession. The first is the increased number of middle-aged and elderly people, who tend to use more prescription drugs than younger people. The other major factor is the expected scientific advances which will lead to new drugs and medications.
Career Path
How do I become a pharmacy technician?
There are actually no national standard requirements for becoming a pharmacy technician. With that said, employers prefer applicants who have had formal education, training, and experience. Pharmacy technician degrees are usually 6 month to 2 year programs. Subjects of study include medical and pharmaceutical terminology, pharmaceutical calculations, pharmacy recordkeeping, pharmaceutical techniques, and pharmacy law and ethics.
In most states, pharmacy technicians must be registered with the state board of pharmacy. The requirements for eligibility vary, but some states do require at least a high school diploma. There are also usually application fees associated with applying.
As was mentioned earlier, there aren't any required certifications to become a pharmacy technician. There are certification opportunities, though, for those who are seeking to improve their skills and their chances of getting hired. These certifications are offered by several private organizations, which include the Pharmacy Technician Certification Board (PTCB) and the Institute for the Certification of Pharmacy Technicians (ICPT).
...Please wait... more schools are loading...